Today is Cassette Store Day, the annual international event to promote the value of cassettes
as a music format. Cassette Store Day started in 2013 as the cassette world's answer to Record Store Day and has grown significantly in its second year. In 2013, the Cassette Store Day release list had 50 titles; this year, that number has risen to 300.
The event originated in the UK but has garnered fairly robust participation stateside. The official Cassette Store Day website has separate areas for UK/EU and US, and separate release lists for each region.
Cassettes seemed to be so dead as a format that the Oxford Dictionary removed the term "cassette tape" in 2011. But some indie music niches, especially in the pizza punk/Burger Records/Gnar Tapes arena, have embraced and championed the cassette, partly out of nostalgia and partly out of contrariness.
In reality, it's hard to say how many people are really listening to these cassettes. Many music buyers now primarily listen to digital music while handling their physical media—cassettes, limited edition vinyl, deluxe CD box sets that are housed in impractical unusable packaging—as collectors objects, like action figures that can never be played with and graded comic books that can never be read. Some of the people who bought my cassette have told me that they don't even own a cassette player. But Walt Disney recently announced that it would release the hit Guardians of the Galaxy soundtrack on cassette—Disney's first cassette release in a decade!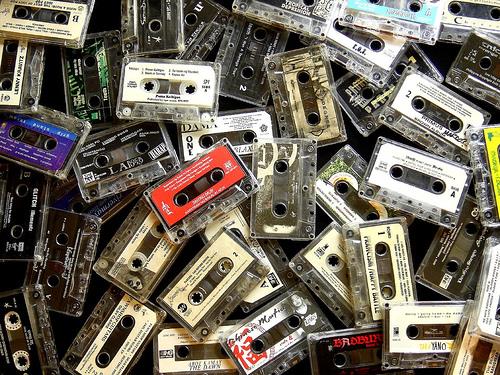 I love the spirit behind Cassette Store Day and can understand the fondness that some people have for physical media. I used to be a serious record collector and, at one time, had nearly 10,000 LPs and CDs. I couldn't imagine giving up physical media and listening to stupid files that could evaporate in an instant with the crash of a hard drive. I couldn't imagine how "record" collecting could continue to provide any joy or challenge in a digital environment in which practically every recording you might ever want is readily available for download or streaming. And yet today I buy very little physical media and take my iPod Classic (now discontinued) everywhere. I still feel the same joy of discovery when I find great new music for download that I felt with physical media, like when I finally tracked down that mint copy of the Go-Betweens' Very Quick on the Eye LP.
If you'd like to browse the releases for Cassette Store Day 2014, a list of US releases is here, and the list of UK/EU releases is here. The official site also has a list of participating record stores.