This is part 2 of my interview with Colin Clary, which continues from here. The video above is for the song "I Didn't Know You Were a Wizard" from Colin's album Twee Blues Vol. 1, which drops on Tuesday, May 13, as they say in the industry.
In this part of the interview, Colin talks his label Sudden Shame and the state of indiepop today, among other things. The interview was conducted in the first week of May 2014.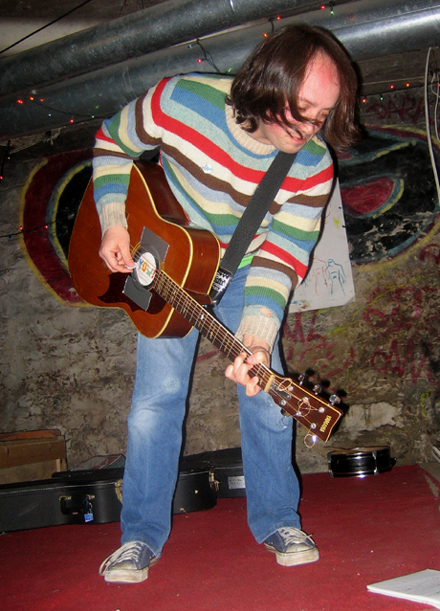 You used to run the record label Sudden Shame. What was your experience with that? Was it a money pit?

I started Sudden Shame records when I was in college at Notre Dame and loved doing it. Running a record label can be one of the most fun things ever, especially in the dreaming and planning phase. Making lists of what you want to put out, putting together release schedules and comps and stuff is a blast. Having the opportunity to encourage someone whose art you believe in and to help them see how awesome they are is a total treat.

It actually wasn't a money pit at all in the beginning; putting out small-run cassettes and selling them around campus was good fun. But then you start making more and more plans, putting out more releases, and the next thing you know, you have moved up to vinyl seven-inches and CDs, and eventually you might end up with a house full of boxes of CDs and records and not much money. I felt like I knew quite a bit about putting together good records and finding awesome bands, but I was pretty lacking when it came down to business sense.

I am extremely proud of all the records I helped folks put out, though. And for the most part, a lot of those folks are still making music and I feel like, aesthetically, we totally rocked it.

I was totally bitten by the DIY bug, and we had a good run. Most of my label work was all pre-internet and on a pretty small scale. I definitely had to pay for a lot of things out of my own pocket, and if it wasn't truly a labor of love, it wouldn't have lasted nearly as long as it did. Most of the folks who I worked with who became more successful did so when they moved on to other labels, but I pretty much loved everything I released. I have a lot of lasting friendships that came about through the work I did back then. I should say that we did back then—me and the bands.


What were the low points?

The low points are when you don't get paid by distributors, or when the workload becomes more like work. It takes a lot of work to run a successful label. At a certain point, I suppose I just wanted to go back to making records and not being the one doing all the other work. Also, I lot of friends in the bands I was in or working with migrated out of town, and it got a little lonely being the label.


What were your favorite releases?

My favorite releases from back then would be the Guppyboy LP/CD Jeffersonville; and the Essex Green/Sixth Great Lake seven inch; the Chisel/Brian, Colin and Vince split seven inch; the Van Pelt/Radio to Saturn seven inch; the Missy Bly EP; and the Storm of the Century comp. And the Trendinista 5000 tape, too!
Many of the other releases were bands that I was in—Brian, Colin & Vince; Madelines; the Four Color Manual—or bands that I was good friends with. Huffy was pretty awesome. I remember screen-printing covers for the Six Cents & Natalie/huffy split seven inch on my parents' dining room table. And we put on a fest for a few years called Burlingtonitus, co-organized by Brad Searles, which was pretty amazing. And I loved the Smiles seven-inch EP! "City Rabbit"!
Totally awesome. James Kochalka's
Carrot Boy
rock opera! Snowi Springs'
Snowi Springs/Yam Soap
cassette!
I don't know if it's fair to play favorites, though, since I was really into everything Sudden Shame released. I keep making this list longer as I remember more of the things we put out. It was a good label and a good family for a little while.


A lot of the early work for the label was 'zines and penpals. When it got to dealing with actual distributors, it got less fun. I should also say that some bands funded their own releases. Some of the bands I was in used money from shows to make our cassettes in the early days.

I don't regret it at all. If I had a ton of money, I would still be doing it. The most fun is deciding what to put out. The least fun is realizing how much work it takes to really do it super well.

The people who run labels and put out records on a small scale are my heroes. I know that it takes a lot more effort than people end up seeing. We should be nice to all those people.
What do you think about the state of indiepop today?
I feel like indiepop today is in pretty good shape—nice and de-centralized like it seemingly always has been, which seems to keep it a bit hard to pin down or co-opt, which is just fine by me!
I think it will always be the case with many things that might tend to be more a labor of love than a profitable enterprise that the folks who care a lot and work hard and put their hearts—and wallets—into it can get burned out. I have seen a lot of labels come and go over the years and many of them started and ended by their own choice. I am really impressed by how much effort Camila at WeePOP! is putting into making sure that the end of the label is conducted with every bit as much love and care and dignity as the beginning and all the parts between.
Sometimes these things just peter out, and sometimes it is a shock to the bands on labels that suddenly disappear or implode. I'm sure it differs for every situation.
I do think that there are often as many label startings are there are endings in any given year. And maybe this is a reason why a lot of indiepop labels and bands stay small: because it is the beginning of a band or a label or a first release or first show that get folks the most excited. Trying to keep it up for the long haul sometimes takes you to a place where you realize it, whatever it is that you are doing, has become more like an obligation than a fun thing you are just going for.
We are super lucky as a community to have things like Indietracks and some of the other wonderful alldayers and popfests here in the states and overseas to give us an opportunity to meet up and see lots of the bands that we might otherwise only be experiencing from a distance. It has made a world of difference in my life to be able to attend and perform at some of these things. The ability to gather and feel a part of a larger community is a beautiful thing. And the fact that these festivals feel more like friend- and fan-fests than big corporate rockstar showoff shindigs is why, I think, most folks who go to them love them. They are very non-icky! It is clearly not all rainbows and unicorns, but it never really has been.
So yeah, I get a little sad anytime a label I love calls it a day, but at the same time, I am thankful for whatever they managed to do and don't really expect anyone to keep at the same thing forever anyhow.
The fact that it is super easy to start a label, or invent a fest, or start a band kinda insures that there will always (I hope) be more indiepop on the way. So I feel pretty good about it. I am not implying that these things don't take a lot of work to pull off, but really, the initial enthusiasm that kicks in when you decide to go for it usually guarantees a successful beginning and after that you can pretty much go on until it isn't working anymore. Then you can rip it up and start again.
CMJ New Music Monthly, 1997
It's certainly a lot easier to find new bands now.
When I first got into indiepop, there were so many more names of bands I wanted to hear than I was ever able to actually come across, so nowadays I am very thankful for how much easier it is to hear new music and old music and to share music.
There definitely was some fun to be had wondering what bands sounded like in the days of snail mail and paper zines, so maybe a little of the wonder is lost here and there, but I also love how I can discover new bands just but putting in an interesting tag on last.fm. I used to put on the Smittens station to see what kind of company we would be in. Or even the Indietracks tag station to get a sense of which bands I needed to see.
I wish folks could earn a living doing indiepop, but I suppose the fact that nobody really makes any serious money is also a plus. It keeps the creeps out! Also, I'm not really an expert on the state of indiepop today, so there's that.
One other thing that I notice a lot is that for many people who love indiepop, it is not so much about only loving indiepop or loving every indiepop band either. Most of them love lots of different kinds of music and have particular threads of indiepop they love best. It is definitely not a one-sound genre. I have a soft spot for the scrappiest bands with the most ramshackle live shows and best songs. Kind of like the first few indiepop bands I fell for years ago.
What haven't you done yet, musically, that you'd still like to do?
That would be a long list! I hope someday to know how to read music and also have an easier time playing piano.
Most of my musical goals involve collaborations or recording or touring. I would be psyched someday to record some songs with Emma from Standard Fare. I would love to play in Japan. I have a dream of doing a split 12-inch record with one side being a cover of Kraftwerk's "Autobahn" and the other side being a cover of the Allman Brothers' "Mountain Jam." I'm still a slide guitar learner, though, so that would be a ways off still.
I feel really lucky to have been able to find the people that I've made music with and to have played in front of as many people as I already have. Everything else is bonus. I am happy that anyone likes anything I've ever done. So I basically plan to just keep on doing more of that. I am totally psyched for whatever the next song I write will be. Yow!