Most people associate 8-track tapes with the AM-radio hits of the 1970s, but the format sometimes served utilitarian purposes too. Audiobooks, instructional manuals, foreign language courses, and other spoken-word albums occasionally were released on 8-track tape.
The 8-track tape wasn't a great format for spoken word. Or for anything, really. When the tape switched from track to track, it would sometimes cut off or repeat tracks or play minutes of silence. The 8-track audiobook of The Sensuous Woman, pictured above, has a note that says program four includes a minute and a half of silence.
The Sensuous Woman was a 1969 best-seller that was written by Joan Garrity under the pseudonym "J." This sex manual for women is still in print today, so its appearance on 8-track reflects its popularity. Not many audiobooks were released on 8-track.
Today on Music Weird, we'll look at several of these oddball spoken-word 8-track tapes. Some of these images come from 8-track-shack.com, where you can actually buy the tapes, if you want.
The Sensuous Black Woman by "The Madam"
This anonymously written book was inspired by The Sensuous Woman and released on 8-track tape in 1972. The label on the 8-track edition misspells "Madam" as "Madman." A version for men also was released: The Sensuous Black Man by "The Prince."
Mobile Home Owner's Guide
This owner's guide on 8-track tape includes the segments "Vacationing Tips," "Electrical & Plumbing General Information," "Appliances Use and General Information," and "General Maintenance Safety Tips."
Adult-Games and Puzzles
This 8-track tape was designed to be played on the 2-XL, a toy robot by Mego Toy Corporation that was a standard 8-track tape player in disguise. Mego produced about 50 titles for the 2-XL, including this one for adults.
Aerobic Dancing
This 1980 exercise album by Barbara Ann
Auer charted on the Billboard pop albums chart alongside albums by Ted Nugent and AC/DC.
Self-Hypnosis: Psychic Healing
Potentials Unlimited, the company that produced this self-hypnosis tape, is still around today. During its heyday, the company reportedly sold a million self-hypnosis tapes a year. During playback, when 8-track tapes switched from program to program, they made loud clunking noises that I imagine would snap most people out of a hypnotic trance.
Alex Haley – Tells the Story of His Search for Roots
Alex Haley, the author of Roots, released this 2-LP spoken-word album on Warner Bros. Records in 1977. The album, which contains a speech that Haley gave at the University of Pennsylvania, was also issued on a double 8-track tape.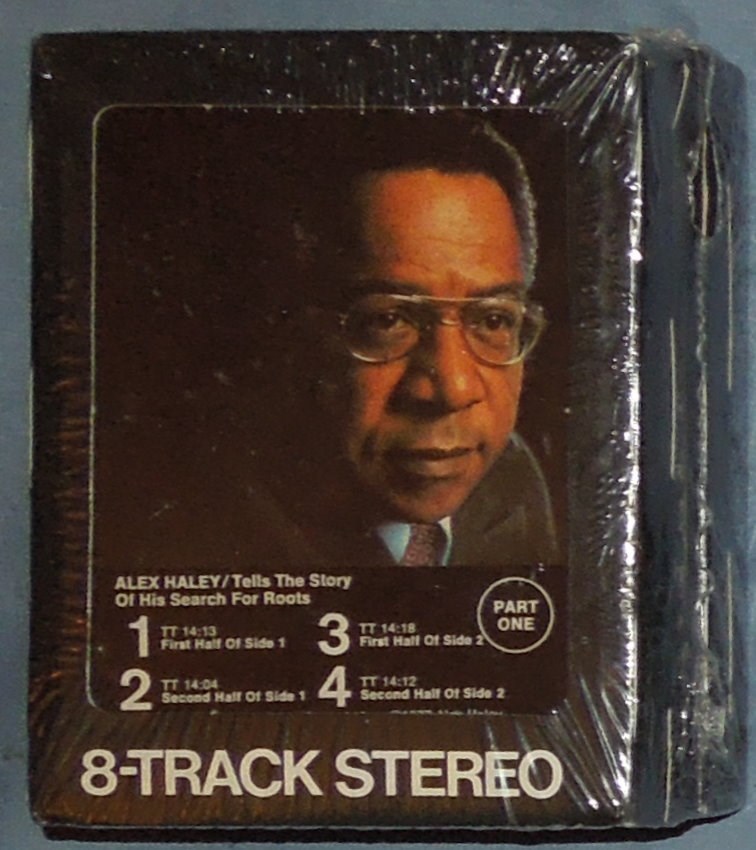 Dr. Martin Luther King Jr. – Remaining Awake Through a Great Revolution
This 1968 album, which was originally released by Excello Records, contains a 1964 speech by Dr. Martin Luther King Jr. The album was later reissued by Creed Records.

The Story of Star Wars
This 1977 album contains dialog and sound effects from the film Star Wars.
The Life of Riley
Some old-time radio programs were released on 8-track tape. The tape pictured below contains a 1949 episode of The Life of Riley, a 1940s radio sitcom that starred William Bendix.
Spanish 2