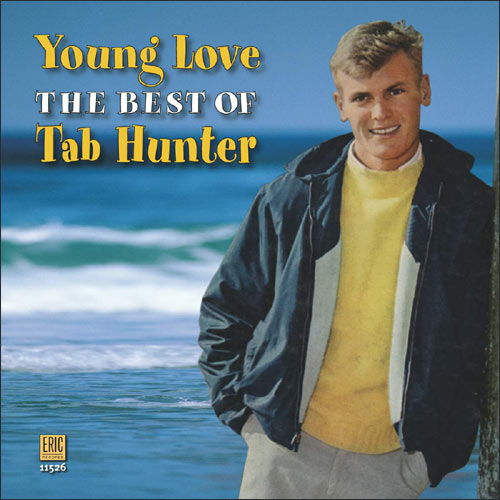 I interviewed actor Tab Hunter in 2005 for his first and only greatest hits collection, Young Love: The Best of Tab Hunter, on Eric Records.
The greatest hits collection coincided with the publication of Hunter's tell-all autobiography,
Tab Hunter Confidential: The Making of a Movie Star
, in which he talked about his sexuality and about dating Anthony Perkins and figure skater Ronald Robertson in the 1950s, among other things. The book is being made into a documentary, which is also titled Tab Hunter Confidential and will be released in 2015.
As a singer, Tab scored an international #1 hit with "Young Love" in 1957 and then had a handful of other hits for Dot and Warner Bros. Records. He was primarily an actor, but he recorded four albums and several singles within a period of about five years. His 1957 single "Ninety-Nine Ways" nearly cracked the Top 10, and his 1959 single "(I'll Be With You in) Apple Blossom Time" reached the Top 40. The greatest hits collection compiles both his Dot and Warner Bros. recordings and features a great photo-filled booklet.
Tab—as he readily admits—is a private person who doesn't like to talk about his personal life, but I thought that the liner notes should at least mention his experience as a gay teen idol. After all, that part of his story was a big selling point of his then-forthcoming book, and the tension between his professional life as a sex symbol to women (or to teen girls) and his private life as a gay guy in the '50s and '60s is fascinating.
Tab finally agreed to allow a brief, somewhat oblique reference to it in the liner notes.
Little clues about Tab's private life appeared here and there throughout his career: He was arrested by vice police at a party in 1955, but the arrest wasn't widely publicized. In a 1956 interview flexi disc for a fan magazine, Tab talked about the girls he dated and his intention to eventually marry, and the magazine titled the disc "I Hope You'll Believe Me." That was kind of a weird title, wasn't it? And his 1958 recording of "My Baby Just Cares for Me" name-drops Rock Hudson, Tyrone Power, and Marlon Brando, all of whom were gay or bisexual.
(By the way, if you visit the Eric Records website, you can hear the 1956 interview flexi disc, which is also pictured below.)
"I Hope You'll Believe Me"
After his recording career, Tab continued to work as an actor. He enjoyed a revival as a cult film star after appearing in John Waters's film Polyester in 1981 and had a singing part in Grease 2 in 1982. He's still going strong and occasionally blogs at his website, tabhunter.com. He's one of the best-preserved octogenarians in history.
My interview with Tab Hunter took place in 2005, but I didn't note the exact date.
This greatest hits collection is long overdue. In fact, you've been bootlegged.
I've heard about that. Someone told me that I'd been bootlegged. But I'm really glad that we're doing this, because it should stop that nonsense, and these are much better cuts, aren't they?
Yes! For the interview, I'll be concentrating on the five years or so of your recording career. Can you talk about when you were preparing to record "Young Love"?
It all happened through Howard Miller, who was a big disc jockey in Chicago. Natalie Wood and I were on a personal appearance tour in Chicago for a film of ours, and while we were there, Howard was a monster DJ there. I mean, huge. And he said to me, "Did you ever think of recording?" And I said, "Well, actually, I love to sing, and I used to sing in the choir as a kid." And he said, "I'd like you to meet with Randy Wood of Dot Records when you get back to LA."
So I met with Randy, and he called me. Actually, he called me and said, "I have a tune here that just broke in the country field, and I'd like you to do it for the pop field." He played it for me, I sang a few bars for Billy Vaughn, and it was, like, on Thursday, and he said, "Let's record it on Saturday." We recorded Saturday, and by Monday, a hundred thousand or so shipped out.
I read that Milt Rogers helped you out with your singing.
Milt Rogers and Billy Vaughn both.
Your first two hits were in a light rock 'n' roll style, but your albums and later singles were traditional pop and country.
Well, what happened was, I was recording for Dot, and Warner Bros. had me under contract, and they owned me for recording, but they didn't own a recording studio at the time. They didn't have Warner Bros. Records. I was not the most easy to get along with, because they were not allowing me to do a lot of things.
So, they started Warner Bros. Records, and they wouldn't let me record any longer for Dot. And we'd already had an album with a hundred thousand advance-copy sales. But Warner said no, you belong to us. So Randy worked something out with Warner, and I was released to allow maybe one or two more singles on Dot, and then Warner started Warner Records and I recorded for them. But by then, it wasn't quite the same as striking when the iron's hot.
I read that the Dot album was originally supposed to be called Tab Hunter Sings.
It was just Tab Hunter. It could have been Tab Hunter Sings, but I thought it was just Tab Hunter. [The actual title is Young Love. Tab's first Warner Bros. album is called Tab Hunter.]
They were tunes that I really liked. Randy was terrific. I loved the whole Dot operation; they were just fabulous people over there. I mean, everything was done on a handshake, and it was like real family. They were the best.
Whereas Warners was more of a factory, and they were just starting out and really wanting to move on forward.
Did the old pop songs and the country music that you recorded reflect your tastes?
Well, those are my idea. I love country music, because I spend a lot of time with horses down at the barn. I love country music. So, I wanted to do a country album, and that's why at Warners
I did
R.F.D. Tab Hunter
, and "When I Fall in Love" because I love the romantic tunes.
Who came up with the album title R.F.D. Tab Hunter?
I did.
It's clever.
Really? I'm glad you like that. I thought of that. I just said, "Set me out by a mailbox out in the country and take a shot of me with me and my dog."
I loved when I toured Australia, I toured with the Everly Brothers and Sal Mineo. Don and Phil were so great—I was such a big fan of theirs—and later, when I did the RFD album, in one of the songs I used "something-something Don and Phil." I stuck their names in the song.
The song that I used Don and Phil's name in was "Hey, Good Lookin."
The RFD postal program linked the urban and the rural, and that's your music on that album: It blends pop and country.
Exactly. That's what I wanted to do.
All my life, I've loved the country, and I've loved being outside and with my horses, and I've loved being away from it all. It was kind of fighting between having to work and do all that, which I loved, but then, every free minute, I'd run out to be with my horses.
You said that you liked the sentimental songs. You must have gained confidence in your singing to take on some of those more challenging melodies.
They were challenging tunes, but they were tunes that I really loved, like "Time After Time." And, of course, "Candy" was always one of my favorite songs, and I loved the way it turned out. But those were all on Warners.
They let you pick your songs?
Quite a bit, yes. At Dot, Randy would come up with a few, but mainly I was able to pick them myself. If you don't like them, there's no point in doing them.
Did you pick "Red Sails in the Sunset"?
I love that. When they said we need something for the flip side of "Young Love"—and it was such a quick session that we just went in on the Saturday to do, I was a nervous wreck. I thought, we needed something for the flip side, and that's when I suggested just the day before to Billy, "What about 'Red Sails in the Sunset'?" I've always loved that song.
Then you did "Ninety-Nine Ways" and "Don't Get Around Much Anymore."
I loved "Don't Get Around Much Anymore," because I remember when I was going to school, it was a popular song.
Both of those Dot singles were double-sided hits.
Oh, I didn't know that. "Ninety-Nine Ways" was a very Guy Mitchell type of a tune.
Your version is very similar to the Charlie Gracie version, with the honky-tonk piano.
Well, Billy was really good at that. Billy Vaughn was excellent. That whole year of working with Randy, with Billy Vaughn, and with Milt Rogers—they were family. It was a good group.
Your recording of "My Baby Just Cares for Me" is great.
I'm glad you like that! I've always liked that song too. I just chose songs in that area that I really cared about.
Who added the lyrics about Tyrone Power and Elvis?
I just made those up. "Rock Hudson's not my style," you know, "Tyrone Power." [Laughs] "Elvis, not my style," all that. I just did that. It just came to me to do that. I had fun with it.
That list of names is interesting—it mentions Brando and Tyrone Power.
Well, they were such big stars.
Right, but both were bisexual, or allegedly so, in Power's case.
Right, you heard that, but you hear that about so many people. Hearsay is so out there. People just say, "I hear this, I hear that."
And Rock Hudson too. Was there a hidden message there?
No, not at all. I just chose those names because they were popular stars.
It's funny when the lyrics say that your baby doesn't care for Tab Hunter, and yet Tab Hunter is singing the song.
I did that because I thought it was fun to do because I was so popular at the time, and I thought to myself, that's all the frosting on the cake. Those are the hot-fudge sundaes of life. But you can't live on a hot-fudge sundae alone—you'd better have the meat and potatoes. You better have the staples. You'd better have the protein. Even though the hot-fudge sundaes are awfully good at times. But they'll make you fat physically, mentally, and spiritually. Not good.
If the singer's baby doesn't care for Tab Hunter, then who's singing the song?
Well, I just threw the name out because I feel in a way like two people. Because my whole life has been that.
I'm a very private kind of a person. There's the Tab Hunter that appears in the public, and then there's the other Tab Hunter who is just more.... I'm just not as comfortable. When you have a role to perform, that's one thing, but just being out there—I've never enjoyed that.
But you know what you do? You accept things the way they are. You just accept them the way they are, and you go with the flow of things. They [the fans] were really genuinely, wonderfully warm—these kids were terrific. If it weren't for them.... People tell me today, "I was such a fan of yours," and I say, "If it weren't for people like you, I wouldn't have been working."
But, of course, I've also found out through the years, through the ups and the downs—you find out that the public can be extremely fickle too.
In 1956, you told a fan magazine that you were dating a girl and intended to marry.
I dated awful lot of gals, but I only dated gals that I really cared about. Once in a while, I would go out on publicity dates just because the studio would ask me to take someone out because it would get coverage for her or things like that. But, basically, I just dated the people I felt secure and fun with. Like, I loved Debbie Reynolds. Lori Nelson was very important in my life in the starting years. And then later, I became very involved with Etchika Choureau. She's wonderful; I did a picture with her. [Lafayette Escadrille in 1958.]
Tony Perkins preceded you a bit with his singing career.
I think it was right around that time. I think he had just finished "Friendly Persuasion." I think that was his first recording.
I think that was '56.
Oh, then I was ahead of that, because I think I did "Young Love" in....
That was at the very end of '56.
That's right. It was December. You're right. Tony had recorded for Paramount, was it?
Epic.
Epic! Exactly. Epic, of course.
Were the two of you competitive about your singing careers?
Not really, not really. Tony sang what he did, and I did what I did.
I like his records.
Yeah, he had a very kind of plaintive sound to his voice.
Tab and Tony
Did you know Sal Mineo very well?
Not really well. He was on the lot when they did Rebel Without a Cause, when he and Natalie and Jimmy were doing that.
You toured together.
We only did one tour. They asked me to go to Australia, because "Young Love" was such a major hit. It was a huge hit down there too. So, they put together a tour for Don and Phil, who had just had "Bye Bye Love." It broke incredibly, and so did a couple of others. So we all went down there, and Sal went along also. I think he had a couple of records too.
Did you do other package tours? Or did you do a lot of touring?
No, not at all. That's the only tour I did, singing live.
Really?
Later, I did things like on television, like the Dinah Shore television show and the Perry Como television show. The first time I ever sang live on television was with Perry Como. He was wonderful. In fact, I have a copy of that show. And Dinah Shore was another one.
A great number of those musical shows—they were Pat Boone, Dinah Shore, and Perry Como—I did a number of guest shots on those shows, and I sang live. And little by little, it just made me more comfortable with having to get out there and sing in front of people.
Pat Boone was on Dot too, of course. He recorded some of the same songs you did.
Exactly. A wonderful singer.
He recorded "My Baby Just Cares for Me" the same year you did, but he used different names of celebrities.
I forgot what the original names were, but think they were so dated that I wanted to use something that was more current.

Ted Weems had an early recording of it, and he mentioned people like Bing Crosby and Roy Rogers.
Really?
It seems like in the music business, a lot of those songs that were so popular, they keep rehashing them, and it's like Broadway doing a resurgence of a hit play because they can't come up with anything new.
The teen idols always had a nostalgic quality, though, because the music had some of the youthfulness and energy of rock 'n' roll but also a lot of the strings and melodies that people associated with traditional pop.
"Teen idol" is just a label they hang on you like this or that. Those are just labels, like a fan-magazine label. I never really liked any of the labels they threw on me, unfortunately, because, being a product of Hollywood, if you will, when you are thrown into all of that, where does one serve one's apprenticeship?
It's a difficult thing to do if you're a product of Hollywood and you've never been exposed to all of these things like singing live or performing in live theater or live television and motion pictures. You have to learn your craft as you're going along.
And, of course, Dot was wonderful in the music area, because they had such good people at the sessions. I mean, gosh, on "Young Love," my backup was Elvis's backup singing group.
The Jordanaires.
The Jordanaires. And Elvis was not happy with the fact that the Jordanaires did that!
When you moved to Warner Bros., did the atmosphere change a lot?
Well, it was a different atmosphere entirely. I felt at home, movie-wise, at Warner Bros., but the recording thing was so new. They started the company, and there was some good people there, but they wanted them to get it off the ground—the record company—but they let a lot of water go under the bridge, and a lot of time had gone by, and you've got to strike while the iron is hot. Dot was ready to keep going, but Warners put the kibosh on that.
The music changed too when you went to Warner Bros. and started doing that more jazzy stuff.
I think Dot was more commercial, no doubt about that. I was also growing up at that time, so I liked the romantic tunes, and I liked the country tunes. I wanted to do the things that appealed to me and not just be given a tune to sing.
You know, when I first heard "Ninety-Nine Ways," I wasn't mad for the song. I thought it was nice, but it didn't really appeal to me. It was fun to do, and it was always very exciting being in the recording booth with the orchestra and working with the orchestra. That was wild. A great, great, great feeling.
[Part 2 of the interview is here.]